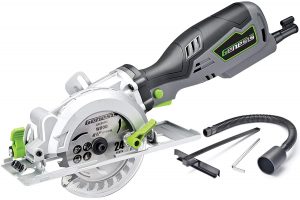 Compact circular saws are one of the most useful components that come in handy for cutting several surfaces such as wood, plastic, metal and stones. This is a wonderful equipment to work with by merely using one hand, keeping the other one free.
Usually, saws focus either on the depth or height as main features to be considered. But when it comes compact circular saws, they focus on all the prominent features such as bevel adjustments and depth, length and height.
One of the biggest problems with those involved in the cutting field is that they settle for normal electrical drill or simple jigsaw, however, none of them can ever be effective as compact circular saws that focus on the finesse of the job, rather than doing the minimum.
There are always quite a few risks involved when using this equipment. Risks that can cause injury, which might not be a common occurrence with the traditional cutting materials. But using circular saws is worth it due to the various advantages involved in achieving perfection.
Using a a circular saw could do a great deal for you, and when you own the perfect one, things get even better.
The Best Compact Circular Saw
The Genesis GCS545C Compact Circular Saw is one of the bestselling circular saws out there. Truly no competition has quite come close to this product due to its sheer efficiency, and actual compact nature. For a saw to be compact, it must not only be of an acceptable size, but also easy-to-carry.
The Main Features:
Lightweight: The Genesis circular saw is lightweight, that it only weighs 5.5lbs.
Great Grip: Don't worry about your clumsy hands, or about sweating. These saws have ergonomic grip, which allows you to use it with one hand.
Adjustments: One of the main benefits of owning a circular compact saw is the feature of bevel adjustments. The Genesis saws provide adjustable depth and bevel adjustment features that helps one achieve 100% precision while cutting.
Highly Powerful: What's in a circular compact saw if it's not powerful enough? Any jigsaw can cut, but only a powerful Genesis saw can cut materials smoothly, without you having to exert much effort. This factor is achieved by the highly powerful 5.8 Amp Motor as well as 3500 RPM of Genesis Compact Circular Saws.
Gear: One of the main features of these saws is that they use Triple-Gear Reduction for achieving maximum torque.
Convenience: Can cut through 2x material without any hassle. Say goodbye to all the struggles you might have had before.
Dust-free- There is no greater news than knowing that your compact circular saw has got built-in dust port and vacuum adaptor, the Genesis has got all that. Due to this feature, the area you're working on often has little to no dust.
Rip cut friendly: If you want to use the saw for rip cutting, then this is the best option. The rip cutting track system (which is optional), helps you achieve extremely precise rip cuts.
Storage and Replacement Blades: There is a storage cord and various replacement blades are available.
Why would anyone want to replace their regular saw with a Genesis Compact Circular saw?
Benefits/Pros:
Being a highly powerful saw that offers utter convenience, this equipment is a winner. It is extremely easy to use and efficient that it can cut through 2x materials.
This is not easily achievable by all saws due to the blade size and the type of blades they use. And that's where the super cool 4-1/2" blades come in. One of the biggest advantages of having these blades is that you don't have to alternate between different blades for varying projects. You can use the same for small-scale works too!
These are extremely efficient and clean equipment to work with due to the presence of dust port.
Also, Genesis Compact Circular Saws come with two years US warranty, which assures you that this is a highly powerful equipment that takes its job very seriously, and is bound to last long.
Cons:
Like with any other compact circular saws, there is a risk of injury. You must be extremely careful while using it.
It is extremely powerful, and you must be ready for it, which many might not be considering its tiny physique.
You can find the Genesis GCS545C Compact Circular Saw at Amazon.com for a great price with super fast shipping.